Welcome to the original IrishCycling.com website, in this section you will see archives dating from January 2000 up to December 31st 2003
Return to the current IrishCycling.com website
THE 12 CYCLING DAYS OF CHRISTMAS (By: GERARD CROMWELL Dec 22) On the first day of Christmas, my true love sent to me a cartridge for a BB. (Bottom bracket!) Handy thing to have during the winter! More....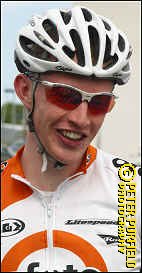 CATCHING UP WITH O'LOUGHLIN: (By Shane Stokes Dec 19) Irish time trial champion David O'Loughlin is one of eight riders currently on Cycling Ireland's shortlist for next August's Olympic road race. More...
DUFFY TO HEAD JOINT NCBI/CI LEISURE INITIATIVE: (By Shane Stokes Dec 17) Eamon Duffy's changing role in Cycling Ireland will see him working as a Special Events Manager for the NCBI/CI in the future, More...
POWER PSYCHED FOR 2004: (By Shane Stokes Dec 12) Navigators professional Ciarán Power is aiming to start the 2004 season in top condition, with the goal of posting some good results in the team's early campaign in Europe. More...
Cycling Heaven in Denmark: (Dec 10) During a break in training at the cycling school he is attending in Denmark, IrishCycling.com caught up with Thomas Juul-Jensen and asked him what the school is about and what his plans are for next season: More....
LUCKY THIRTEEN FOR SEYMOUR: (By Shane Stokes Dec 6) Robin Seymour today dominated the national cyclo cross championships in Kilruddery, Bray, to further extend his remarkable winning sequence to thirteenth consecutive wins. More...
More 'RÁS' Stories: (By Gerard Cromwell Dec 7) It usually began with the packing of an old brown suitcase. It looked like it had seen better days. The brown fake leather was peeling off in patches and you could see a kind of laminated cardboard underneath. More...
LIFE REPAIR TEAM COLLAPSES: (By Shane Stokes Dec 1) A number of Irish riders who were hoping next year to be part of the Division III Life Repair team have now been left in limbo following the news that the insurance company which was to sponsor the team has collapsed. More...
NALLY PLANS STRONG SEASON IN 2004: (By Shane Stokes Nov 29) Spanish based Corkman Dermot Nally is training hard in advance of what will be a vitally important second season in the pro ranks. More...
Plaque Unveiled for Eddie Tobin: (Nov 21) At a reception on Friday last Enniscorthy Town Council had a plaque in appreciation of Eddie Tobin's contribution to the town unveiled by Sean Kelly in their 1798 centre on Millpark road. More ....
PJ NOLAN INTERVIEW: THE PRESIDENT'S ANGLE: (By Shane Stokes Nov 12) Cycling Ireland will hold its AGM at the Abbey Court Hotel in Nenagh on Saturday week, November 22nd. With time ticking down to the meeting, IrishCycling.com put questions to CI's president PJ Nolan on a range of topics, Full Interview Here Now...
DICKIE COMERFORD REMEMBERED: The Usher IRC will be honouring Dickie Comerford who passed away 10 years ago at their Annual Dinner Dance More... Worth a look if just for the old photos.
RAS BOOK LAUNCH A BIG SUCCESS: (By Shane Stokes Nov 6) Yesterday evening's launch of Tom Daly's fine book, 'The Rás' proved to be a great success, Read more... See Launch Pictures Here.....
SWIFT TAKES EXCELLENT FOURTH IN JAPANESE RACE: (By Shane Stokes Nov 11) Colette Swift rode with distinction at the women's Tour of Okinawa in Japan when she took an excellent fourth place. More...
BANN LAVERY APPOINTED TO ULSTER YDO POSITION: (By Shane Stokes Nov 13) Cycling Ireland announced today that John Bann-Lavery has been appointed to the position of youth development officer for the Ulster region.
McCANN SEVENTH IN JAPAN: (By Shane Stokes Nov 10) David McCann finished a fine seventh in the world-ranked Tour of Hokkaido in Japan yesterday, ended the Hibernian Team Ireland squad's season campaign with a morale-boosting result. More...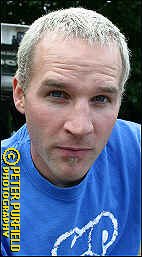 O'BRIEN THIRD IN RED BULL RAMPAGE: (By Shane Stokes Nov 10) Irish downhiller Glyn O'Brien finished an excellent third in the 2003 Red Bull Rampage race, which was held recently at the Kolob Reservoir in Virgin, Utah. More...
POWER TO RETAIN CONTRACT WITH NAVIGATORS: (By Shane Stokes Oct 31) Irish pro Ciarán Power appears to be set for another season racing on the US circuit, following the news that he has signed a letter of intent to remain with the New York-based Navigators team. More...
ASTARLOA SURPRISES FAVOURITES, SCANLON A FINE 67th: (By Shane Stokes Oct 12) Spanish rider Igor Astarloa was the surprise winner of the Elite men's road race at the world championships in Hamilton, Canada, More...
DISAPPOINTMENT FOR JENNINGS AS LJUNGSKOG DEFENDS: (By Shane Stokes Oct 11) French legend Jeannie Longo went frustratingly close to taking her fourteenth world championship gold medal today in the women's road race in Hamilton, More...
NO IRISH FINISHERS IN JUNIOR WORLD CHAMPS, REUS WINS: (By Shane Stokes Oct 11) There was big disappointment today for the Irish squad in the junior road race at the world championships in Hamilton, More...
ROCHE 29th IN U23 WORLD CHAMPS: (By Shane Stokes Oct 10) Irish cyclist Nicolas Roche had a good ride in the under 23 world road championships this evening, finishing in the main bunch just nine seconds behind race winner Sergey Lagutin of Uzbekistan. More...
McCANN GOES CLOSE TO OLYMPIC PLACE: (By Shane Stokes Oct 9) Irish rider David McCann performed above expectations against a field of more established professionals in the elite time trial at the world championships in Hamilton this evening, More...
McQUAID FOR UCI PRESIDENT ROLE?: (By Shane Stokes Oct 9) Irishman Pat McQuaid took a big step forward towards his goal of becoming president of cycling's world governing body, More...
HUNTER DOMINATES TQ PAPER INTERNATIONAL: (By Shane Stokes Oct 5) Race leader Angela Hunter stamped her authority on the final stage of the TQ Paper International Ladies two-day More... See Pictures Here.....
Hundreds of Cyclists Enjoy the Dublin Bay Fun Cycle See Pictures Here.>>>>
IRISH IN HOKKAIDO: (By Shane Stokes Sep 17) Denis Lynch finished best of the Irish in the Tour of Hokkaido in Japan, ending the five-stage race in twelfth place overall. More...
IRISH TEAM FOR PARALYMPICS: (By Shane Stokes Sep 17) A six man Irish team leaves today for Prague to take part in the International Paralympic Comittee European Championships. More...
EVANS SET FOR NEW TEN MILE TT RECORD: (By Shane Stokes Sep 16) Former Irish record-holder Tommy Evans looks set to reclaim his place at the top after a scorching ride in the Jim Traynor Memorial ten-mile time trial tonight. More...
SCANLON BREAKS NOSE IN CRASH: (By Shane Stokes Sep 9) Mark Scanlon has decided not to start today's third leg of the Tour of Poland, having crashed in the final kilometre of yesterday's stage. More...
LETTER FROM ABROAD: HOMETIME: (Sep 6) The Earl of Desmond rider John Dempsey has been racing this season with the EC Mayenne team in Normandy. This is his final instalment for the season, as he is about to head back to Ireland for a break from the bike. More...
LYNCH, LUCEY TAKE NATIONAL TITLES IN DUNLAVIN: (By Shane Stokes Aug 31) French based rider Denis Lynch went one better than the silver medal he took last year with a storming ride in the national under 23 road race championships in Dunlavin today. More... See Pictures by Peter Purfield here....
REUS WINS M DONNELLY JUNIOR TOUR; VAN HEEREN TAKES FINAL STAGE: (By Shane Stokes Aug 10) The highly promising Dutch rider Kai Reus comfortably held onto the yellow jersey on today's final stage of the M. Donnelly Junior Tour, Full Report...
SCANLON, GILL DEFEND NATIONAL TITLES: (By Shane Stokes Jun 29) 2002 winners Mark Scanlon and Geraldine Gill today successfully defended the national titles they won last year, racing to impressive victories in the men's and women's road race championships in Sligo. Read Shane Stokes full detailed race reports here... See race Pictures by Peter Purfield here...
OVER 250 PICTURES OF SPECIAL OLYMPICS: (Jun 27-) Pictures of the Special Olympics Cycling events in the Phoenix Park on Friday 27th and Saturday 28th are now posted on this site. Click here to see pictures...
Check out the Wicklow 200 Leisure Challenge - Over 800 cyclists took part -
165 Pictures of the event posted here now....
ALAN CARBON Road Test: Shane Stokes tests the latest Alan Carbon Report Here...
It's Not What You Say, - It's What You do: ( By Dave Walsh - May 2003) "CHIEF EXECUTIVES", says Stuart Hallam, newly appointed CEO of Cycling Ireland, "are measured not by what they say, but by what they deliver". More...
NEWTON WINS RAS, POWER THIRD ON STAGE: (By Shane Stokes May 25) Chris Newton today became the second English rider to win the FBD Milk Rás More...
Full Results Here... See Pictures Here...
Blame it on the weatherman: (By Gerard Cromwell May 20) Noel Gallagher of Oasis penned the line; 'Nobody ever mentions the weather can make or break your day'. This is especially true if you're a cyclist on this week's FBD Milk Rás. More...
THE REAL MEN OF THE RAS: (By Gerard Cromwell May 14) This Sunday, over 120 of Ireland's and the world's top cyclists will converge on O'Connell St. Dublin, just outside the GPO for this year's Rás. More...