| | | |
| --- | --- | --- |
| Irish Cycling Gallery | Faces of Irish Cycling | |
Cycling Ireland Women's League Race 1
Boot Inn (Rear of Dublin Airport - 8th May 2002
ALL CABLES WOMEN'S LEAGUE
The All Cables womens league got off to a great start at the Boot Inn with a nailbiting finish at the end of the 15 mile handicap race. Valerie Considine of Usher IRC pipped Kate Rudd of Nenagh in a blanket finish with Marica Attoresi (Cycleways) third and Kathleen Gill (Navan Avonmore) in fourth place. The winning time for the race was 41 minutes with a stiff breeze facing the cyclists. The second group caught limit riders Imelda Tully (Navan Avonmore) and Kim Jaya (US) on the second lap.
Scratch riders Marie Reilly (Bohermeen CC), Gillian McDarby (IMBRC) and Roisin Kennedy (Usher IRC) averaged just under 40 kilometres per hour but failed to catch the first group. The long straight outside the Boot Inn saw a very exciting blanket finish with Valerie Considine notching up her first win from tri-athlete Kate Rudd who proved her ability in her first ever open race. Garda co operation was excellent with two motorcycle Gardai providing safe passage for the race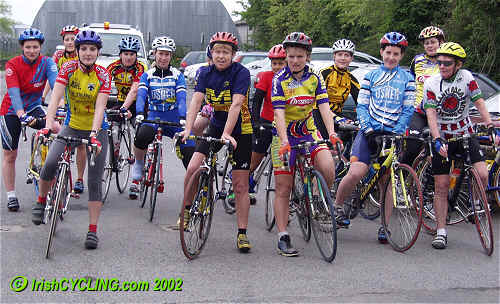 Start outside the Boot Inn Bar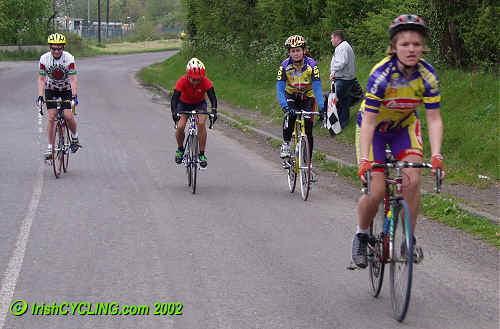 The first group start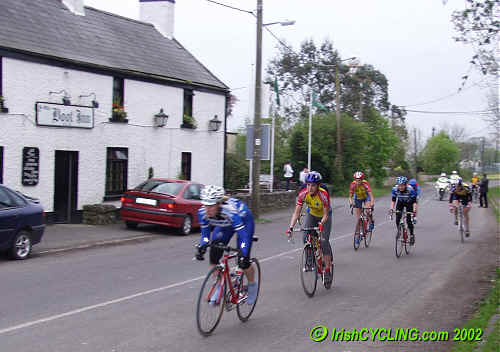 Second group start 3 minutes later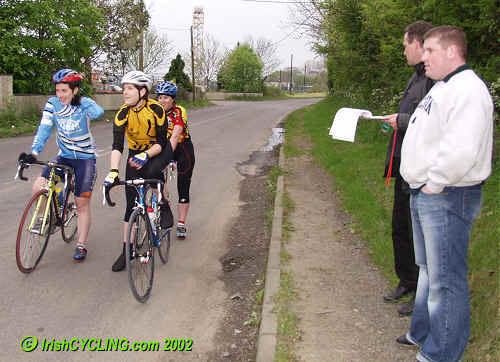 Three riders make up the scratch group at 6 minutes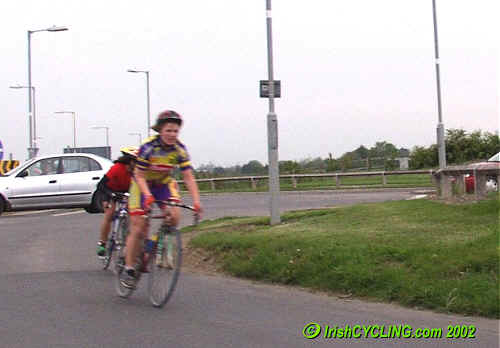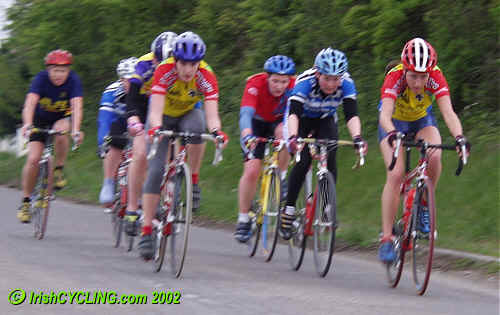 Chasing group has pulled back 1'15" in 5 miles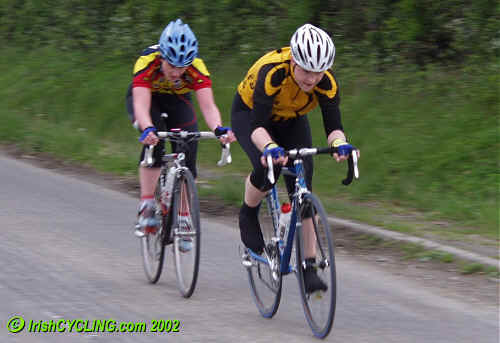 Only 2 left in scratch pulled back 2'10" in 5 miles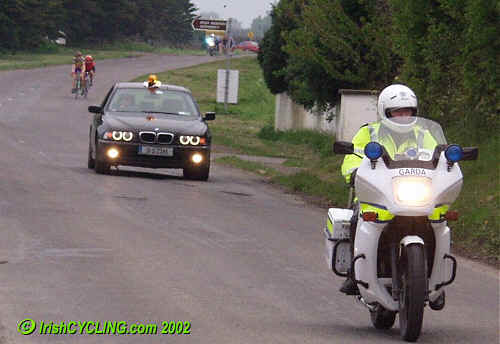 Great support from the Garda Motorcycles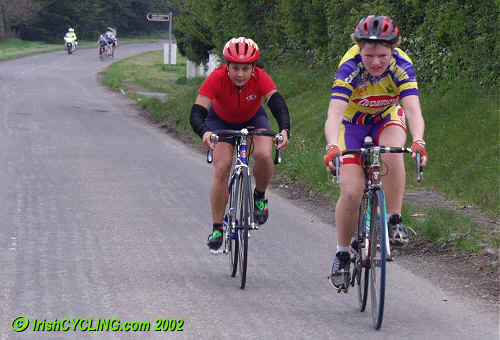 With 5 mile to go the leaders are being reeled in by the chasers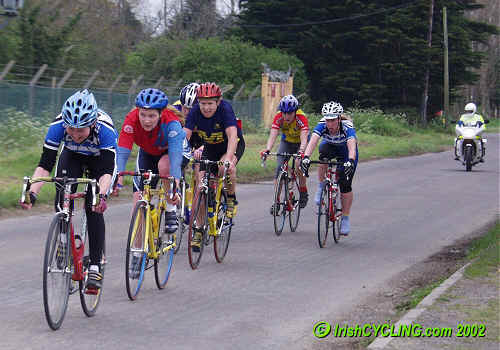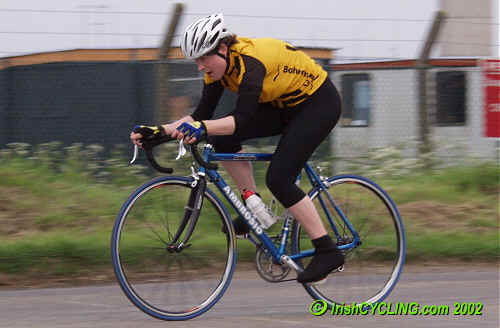 Marie o'Reilly now chasing on her own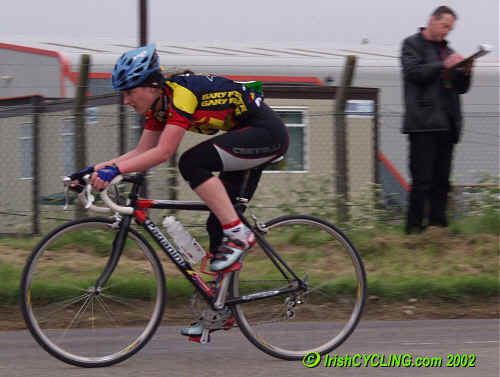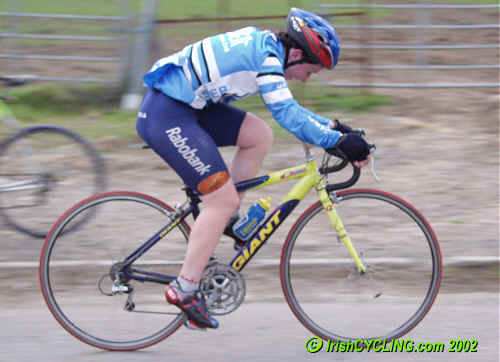 ---------------------------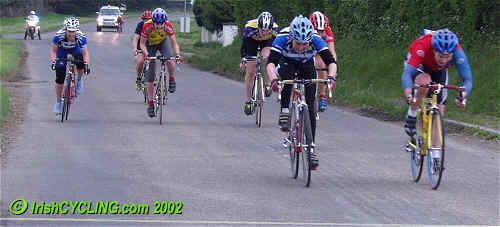 Good sprint finish

There's only a tyre width between them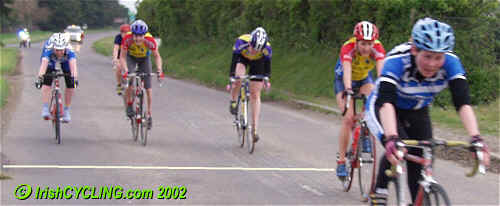 Another close sprint for 4th place
RESULTS
1 Valerie Considine Usher IRC 14 POINTS
2 Kate Rudd Nenagh CC 13
3 Marica Attoresi Cycleways 12
4 Kathleen Gill Navan Avonmore 11
5 Elsa Connaughton Cycleways 10
6 Olivia Coady Usher IRC 9
7 Susan Lavery Garda Motorway 8
8 Kim Jaya U.S. 7
9 Imelda Tully Navan Avonmore 6
10 Marie Reilly Bohermeen CC 5
11 Evelyn Doyle IVCA 4
12 Gillian McDarby IMBRC 3
13 Roisin Kennedy Usher IRC 2
14 Mary Geoghegan Navan Avonmore 1
.
ALL-CABLES TO SPONSOR WOMEN'S LEAGUE
It has been announced that the All-Cables company are to sponsor the Cycling Ireland Women's League, which begins this evening with a 25 kilometre road race at the Boot Inn. Races will take place most weeks between now and mid-July and cater for women of all levels who wish to compete, including beginners. In addition to five road races, the handicapped events include a hill climb at Howth, a track race and a time trial, and so are an excellent introduction to the sport. 'The league went very well last year and we are hoping that this season will see even more women taking part,' says Elsa Connaughton of Cycling Ireland. 'They are great fun and everyone is welcome.' For more information, contact Elsa at 01-8551522.
Women's League:
Wed 8th May: 25 km road race, Boot Inn. Starts 7.30pm
Wed 15th May: 25 km road race, Batterstown. Starts 7.30pm
Wed 20th May: Hill climb, Howth. Starts 7.30pm
Wed 5th June: Track races, Sundrive Road, Kimmage. Starts 7.30pm
Wed 12th June: 25 km road race, Boot Inn. Starts 7.30 pm
Wed 26th June: 25 km road race, Batterstown. Starts 7.30pm
Wed 3rd July: 10 km time trial, Batterstown. Starts 7.30pm
Wed 10th July: 25 km road race, Dunboyne. Starts 7.30pm
Return to Gallery Index - To Homepage All pictures are © Peter Purfield 2002