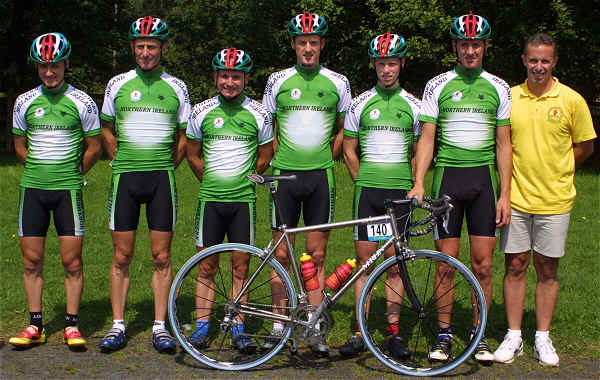 Northern Ireland Team before the Road Race
Evans does 'ride of the day' in Commonwealth Games RR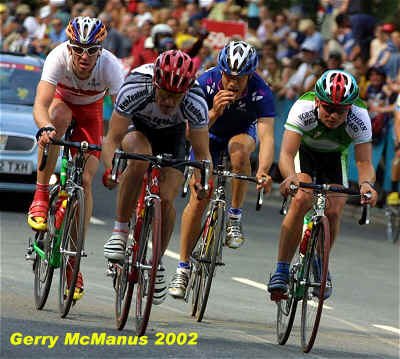 (Aug 4) The big disappointment was for David McCann when his chain broke while he was riding strongly in the pursuit of the lead group. The way the race went eventually, he would have been clearly in with a medal chance. At least the team can be proud of all the performances especially by Tommy Evans.
Tommy Evans 12th place made him the highest place of the Northern Ireland team but his ride was one of the strongest of the whole field. When the race exploded at half stage, Evans had already been in a 56-mile breakaway quartet.
Team mate Stephen Gallagher explains: "Tommy did a superb ride," said Stephen: "The thing that impressed me most was that after he got caught, he was still doing all the riding and capable of attacking. I've never seen that before after being away for six laps and then actually attacking. I think that is probably one of the best rides in the whole race."
"It went pretty much as expected for me," he said: "I wasn't going that well in the first couple of laps and when I tried t get into the move when Tommy went, my legs just fell off me. I thought then that I was in for a bad day so I just sat in for a couple of laps and got the legs going again and thankfully in the last half of the race, I felt a lot stronger than the first half. I expected to finish round about the top 20. I'm just disappointed about Davie's bad luck."
Veteran of the Brisbane games, David Gardiner proved that he is still capable of competing at international level. When asked if he enjoyed the experience 20 years on, he said: "I'm not sure if enjoy is the right word, it was difficult, those Australians are just something else. We all knew what they were going to do and they did it and no one could do anything about it. When they attacked up the hill, they went at such a pace that very few people could go with them. They were just a class above the rest of us."
"I've enjoyed being here and I think we gave it a good shot with Tommy in the early move and Davie trying to go with them."
Tommy Evans was disappointed with his result: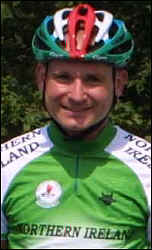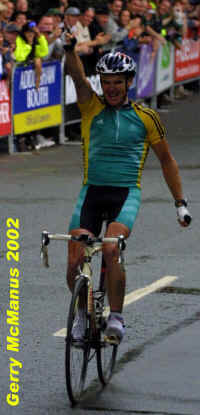 "I'm a bit fed up," he said: "As I keep telling everybody, I'm here to represent my country and every four years you have only one opportunity and you just give it everything. It could have been a case of maybe if I hadn't been a maniac and gone in the early move, I might have been there at the end. The plan was that were going to make the Australians race because they were always going to do seven-man time-trial on the front to control the race."
"If maybe they caught me that wee bit later, I think I could have been in the front group. They caught us at the bottom of the steep hill and we had made a big effort to try to get over the hill before they caught us and they just pushed on through."
This will be Evan's final year racing in Marseille as he will be returning home to get married next year but still planning to compete at the high standards that he has set himself over the years.
Commonwealth Games results - 3rd August 2002 -
Rivington, England.

1 Stuart O'Grady (Australia) 4.43.17 (39.646 km/h)
2 Cadel Evans (Australia) 2.08
3 Baden Cooke (Australia) 2.28
4 Glen Mitchell (New Zealand)
5 Eric Wohlberg (Canada) 2.47
6 Hayden Roulston (New Zealand) 2.52
7 Robert Hunter (South Africa) 3.01
8 Roger Hammond (England) 3.02
9 Michael Barry (Canada)
10 David George (South Africa) 3.14
11 Mark Walters (Canada) 5.59
12 Tommy Evans (Northern Ireland) 9.35
13 Yanto Barker (Wales) 9.36
14 Ryan Russell (New Zealand) 10.17
15 Anthony Malarczyk (Wales)
16 Duncan Urquhart (Scotland) 10.56
17 Karl Moore (New Zealand) 11.27
18 John Tanner (England)
19 Denis Easton (Northern Ireland) 11.53
20 Emile Abraham (Trinidad & Tobago) 11.55
21 Mark Lovatt (England) 11.56
22 Julian Winn (Wales)
23 Stephen Gallagher (Northern Ireland) 11.56
24 Malcolm Lange (South Africa) 11.57
25 Kashi Leuchs (New Zealand) 11.58
26 Daniel Spence (South Africa) 12.03
27 Nicholas Patrick White (South Africa)
28 Charles Wegelius (England) 12.29
29 Mannie Heymans (Namibia) 14.03
30 David Gardiner (Northern Ireland) 14.47
31 James Griffiths (Wales)
32 Andrew Roche (Isle of Man)
33 Gordon McCauley (New Zealand
---
Northern Irish team ready to race
(Aug 2) The Northern Irish road race team are prepared for a hard race in the Men's Commonwealth Games road race on Saturday 3rd August.
The road team consisting of Tommy Evans, David McCann, Denis Easton, David Gardiner, Brendan Doherty and Stephen O'Sullivan have managed to complete pre-race preparation despite the incessant rain in Manchester.
The rain is expected to stay for Saturday afternoon's race of 16 laps of a 7.3-mile circuit and this could cause some problems for the peleton. The strength sapping route begins relatively flat for 2 miles before a small is followed by a long 45 m.p.h decent towards the reservoirs. Once over the bridge, a tight right-hand turn will see the bunch lined out as they approach the first of three 'steps' around the back of the circuit. The first will be difficult for those caught at the back, who will need to chase on the flat section before the next 1-in-6 ascent begins. A short respite again before the final shorter 'step' begins and they go into a long descent at up to 40m.p.h towards a 90-degree left-hander. If the rain persists, there could be casualties on this tight corner and it is noticeable that a BBC camera is already in position here. The run in to the finish is largely uneventful and the downward sloping finishing straight may require the judges to use the photo-finish camera if there is a bunched sprint.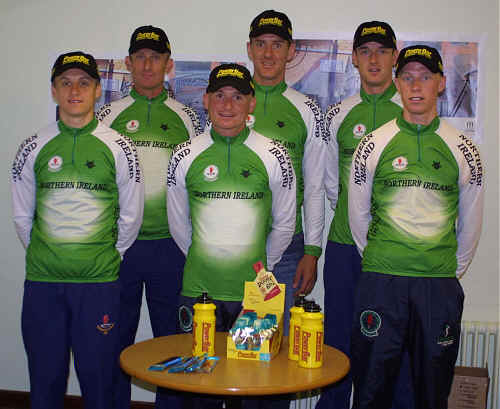 Team manager Alistair Irvine is aware of the danger of the Australian team, especially with Stewart O'Grady and Baden Cooke arriving in top form from the Tour De France.
"We will need to take the race to the Aussies," he said "If we leave to them to dictate the race pattern than there will simply be a wearing down process for the other teams. We have the talent to get riders into early breaks and not to leave it to the Australians to control. We expect other teams to be thinking the same way."
The best results for the cycle squad came with David McCann's eight place in the time-trial last week and Alwyn McMath did a fine ride in the 20km scratch race on Thursday to finish 6th in the bunch sprint and 10th overall. The Manchester based 27-year-old suffered skin burns after his crash in the sprint competition but still managed to enjoy the 20km event: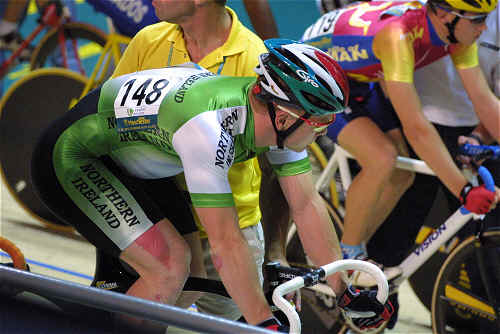 "It's a bit of a break from the old routine. 80 laps is a long way compared to three but it was good fun. You need a different type of mentality going into a 3-lap sprint heat."
McMath had almost lost contact with the main group and had an astounding last lap, coming right from the back to be get his top ten place.
---
Superman Cadel Evans wins men's commonwealth road TT
(July 28) Fine performances by the Northern Ireland squad were eclipsed by a fantastic performance by the Australian trio of Cadel Evans, Michael Rogers and Nathan O'Neill.
The triple world mountain bike champion Evans completed the 29.2 mile event in an astonishing time of 1:00:53. Michael Hutchinson (N Ire) described the course as "the most technical course I have ever ridden."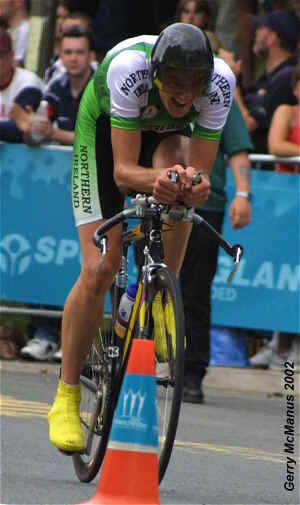 David McCann was first of the NI team home in eighth place, taking a few notable scalps along the way including Mapei's Nick White (RSA) and the Navigators duo of Glen Mitchell (NZ) and Mark Walters (Can).
Michael Hutchinson was seemingly unable to find the rhythm that he thrives on with the UK's flat roads and finished 15th. "It was very hard. Every flat bit you were thinking of the next climb and the next corner, your line, what effort you were doing, just trying to measure it all. I decided I was going to give it a good first lap and see if I was in the ball-park. After the first lap I was sort of hanging on and it was all about conserving energy for the bits when I needed it."
It was an entirely new experience for Brendan Doherty, which was nearly short lived after he over-shot a corner. "It was a great experience," said the tired rider after his ride: "I'm not really used to riding time-trials longer than 10-miles really. So it was difficult to find the right pace on a course like this. I was trying to follow the wheel when I was caught but it was putting me into oxygen debt so I ended up finding my own rhythm."
McCann believes he may have started too fast:
"It was a big event and it's just the way the course was," he said: "You get all physched up and hammer it a wee bit. I don't think it made much difference but I had to ease up a little bit on the third and fourth laps."
He was complimentary about the Australian trio:
"Some of these guys are amongst the best the world and these games are probably the strongest they have ever been."
Results:
1 Cadel Evans (Australia) 1.00.53.50 (46.112 km/h)

2 Michael Rogers (Australia) 1.56.86

3 Nathan O'Neill (Australia) 2.27.19

4 Eric Wohlberg (Canada) 3.36.26

5 Charles Wegelius (England) 3.50.93

6 David George (South Africa) 4.00.00

7 James Piri (South Africa) 4.03.78

8 David McCann (Northern Ireland) 4.31.14

9 Gordon McCauley (New Zealand) 4.50.88

10 Heath Blackgrove (New Zealand) 4.56.28

11 Glen Mitchell (New Zealand) 5.04.56

12 Julian Winn (Wales) 5.32.70

13 Nicholas Patrick White (South Africa) 5.38.98

14 Andrew Roche (Isle of Man) 5.58.84

15 Michael Hutchinson (Northern Ireland) 6.23.46

16 Jason Macintyre (Scotland) 6.39.11

17 Mark Walters (Canada) 6.55.64

18 Kris Hedges (Bermuda) 7.17.60

19 Duncan Urquhart (Scotland) 7.33.21

20 Anthony Malarczyk (Wales) 8.19.10

25 Brendan Doherty (Northern Ireland) 12.10.30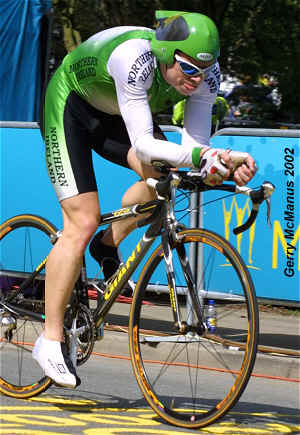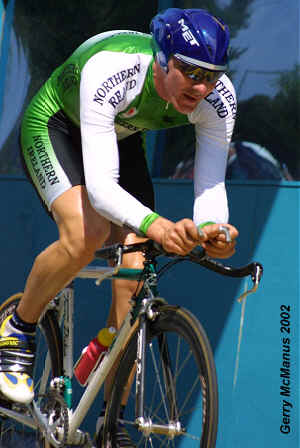 Michael Hutchinson and Brendan Doherty
---
Formidable opponents for Northern Ireland
(July 25) The Northern Ireland cycling squad travel to Manchester to compete against some of toughest competition from the Commonwealth.
The road squad of David McCann (Volksbank- Ideal), Tommy Evans (VC La Pomme), Brendan Doherty, Dennis Easton (both Total Cycling), Stephen Gallagher and David Gardiner face strong teams from England, Scotland, Wales, Australia, New Zealand and Canada.
McCann must surely have put his disappointing fourth place in the Irish national road race championships behind him with his win in the recent Manx Grand Prix. McCann and Evans are known to race well on tough courses like the one at Rivington near Bolton and long event will be a stern test on their powers of endurance. The team are fully prepared for the event and have even had a reconnaissance ride on the circuit in June.
Australia's Stuart O'Grady (Credit- Agricole) has shown the world that he can climb mountains too in the Tour De France this year and they will need to distance the roadman-sprinter to eliminate him from the podium. The impressive looking Australian line-up includes Cadel Evans, Brad McGee and Baden Cooke.
Canada boasts a strong team with Gordon Fraser (Mercury) joining Mark Wohlberg and Ciarán Powers teammate and USPRO champion Mark Walters (Navigators). Fraser and Walters both race for stateside teams but are no strangers to top-class competition. It wasn't so long ago that the Mercury team were on the podium in continental Europe too.
Mark Lovatt and John Tanner (Compensation Group RT) get a break from dominating the UK scene by representing England and get another deserved chance for medals on the road race circuit that hosted the GB championships in June. However, Gordon McCauley (New Zealand) will be keen to beat the pair as he has done on many previous occasions in the UK. The RDM Flanders man has ridden as guest rider with Domo – Farm Frites this year supporting Fred Rodriguez in the US and was tipped for a full-time spot next year. He is supported by a full road squad including Julian Dean.
The road race is the final cycling event on Saturday August 3rd.The time-trial event opens the racing on Saturday 27th on the same circuit as the road race.
Michael Hutchinson has his first showing for the team and the Belfast born rider comes with the confidence of having the 50-mile British TT championship gold medal in his pocket. His main worry will be regular adversary Stuart Dangerfield (England), who he has only beaten on one previous occasion. Both may be eclipsed by McCann who is clearly thriving from competition riding for the Austrian outfit.
Nathan O'Neill (Australia) has yet to show his true ability against the clock and these games are an opportunity for him to show what he could have done in the Sydney Olympics if he hadn't crashed.
Glen Kinning is the youngest member of the team and rides in the cross-country MTB event on Tuesday 30th July. The 18-year-old comes with high praise from team manager Alistair Irvine.
"Glen was selected because of his results. He has been dominating Irish mountain biking and definitely warrants selection," said the former commonwealth medallist: "Mountain biking is a new sport to the games and it's great that we have representation. He's a young guy with lots of experience and knows how to prepare himself. We have expectations of him to perform really well."
Young Alwyn McMath rides the kilometre track event. The Manchester based rider will certainly be at home on the track he races regularly on. England's Jason Queally will be amongst the favourites for the kilometre TT and FDJ's Brad Wiggins (England) will be looking to buy a bigger trophy cabinet if he can regain the form that gave him pursuit Olympic and World Championship medals.
Advance team entries were sent to enable a number of the NI road riders to race in the endurance track events but a final decision has yet to be made by Irvine. Hutchinson has indicated that he would like to ride the 4,000m pursuit.
Crash fans are not expecting to be disappointed with some interesting riding predicted in the road races where seasoned professionals are pitted against riders with very little international experience.
The games promise some great racing and maybe a few surprises.
Commonwealth Games – Cycling Schedule - Finals
27/07/02 AM Women's Road Time Trial Final Rivington

27/07/02 PM Men's Road Time Trial Final Rivington

28/07/02 EVE Women's 500m Time Trial Final National Cycling Centre

28/07/02 EVE Men's 1000m Time Trial Final National Cycling Centre

29/07/02 AM Women's Cross-Country Final Rivington

29/07/02 PM Men's Cross-Country Final Rivington

30/07/02 EVE Women's Points Race Final National Cycling Centre

31/07/02 EVE Men's Sprint Final National Cycling Centre

31/07/02 EVE Men's 4000m Individual Pursuit Final National Cycling Centre

01/08/02 EVE Women's Sprint Final National Cycling Centre

01/08/02 EVE Men's 4000m Team Pursuit Final National Cycling Centre

01/08/02 EVE Men's 20km Scratch Race Final National Cycling Centre

02/08/02 EVE Men's Points Race Final National Cycling Centre

02/08/02 EVE Women's 3000m Individual Pursuit Final National Cycling Centre

02/08/02 EVE Men's Team Sprint Final National Cycling Centre

03/08/02 AM Women's Road Race Final Rivington

03/08/02 PM Men's Road Race Final Rivington
---
NI Commonwealth Games team selected
(June 5) The team selection for the NI Commonwealth Games cycle squad was finally confirmed earlier this week. The cycling team had been limited to eight but has now been increased to nine. The issue of numbers revolves around the strong medal prospects for NI in other sports like green bowls taking priority.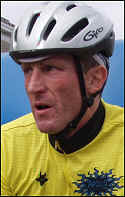 David Gardiner joins Tommy Evans, David McCann, Brendan Doherty, Denis Easton and Stephen Gallagher in the road squad. Gardiner returned to the sport last year and his surprise results in the selectors qualifying events have gained him another shot at the games where he was a participant in Brisbane in 1982.
Alwyn McMath is currently the sole track competitor riding the sprint and kilometre time-trial. The Manchester based rider has been criticised in the past for not riding on other tracks but this surely must now be an advantage to the youngster on this occasion.
Michael Hutchinson will ride the time-trial and it is likely he will be joined by two of the road team. David McCann has expressed his interest in riding. Having previously ridden the circuit, McCann expects it to suit his ability. Hutchinson too could double up with the track pursuit but the decision will be made by the team management nearer the event. Tickets for the track events have already sold out and the well-known Leicester based rider will receive good support from the UK spectators.

There may be an opportunity of fielding some of the team for bunched track races in the points and scratch events. These events are expected to be dominated by the Australians and the Kiwis. Mark Renshaw has been named in the Aussie track team this week and his recent form indicates his ability to win the scratch event.
Glen Kinning is the youngest NI team member. He has been dominating Irish mountain bike events this year and the 18-year-old Belfast lad has been selected on his solid performances in local and UK National Points Series events.