| | | |
| --- | --- | --- |
| Peter Purfields Cycling Gallery 2002 | Faces of Irish Cycling | |
CYCLEWAYS Cup 'A' Race
Navan, Co. Meath - 3rd March 2002
Other Events <Senior A Race> <Senior B Race> <Sen C, Junior, Vets & Ladies> <Startline Shots>
NOTICE: Due to the high number of visitors to this site and the lack of funding in the way of advertisments to pay for excessive bandwidth charges and other running costs, cutbacks have to be introduced.
The pictures are now smaller in size and less of them - I'm sorry that I have to take these measures but I am at my limit as to covering the running costs myself. Peter Purfield, Webmaster@IrishCYCLING.com
-----------------------------------------------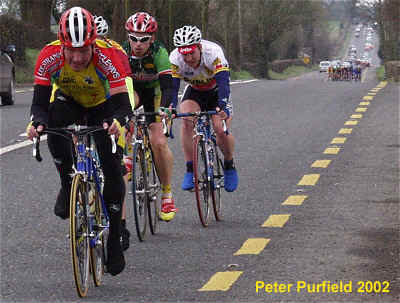 On lap 1 of 6 Cassidy leads a break of five @ 30 secs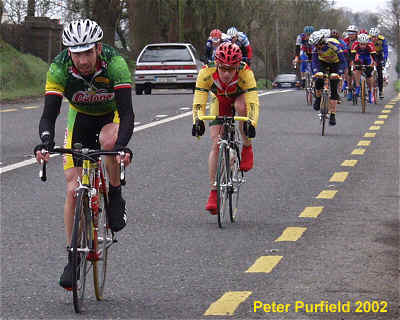 Martin O'Loughlin leads the chasers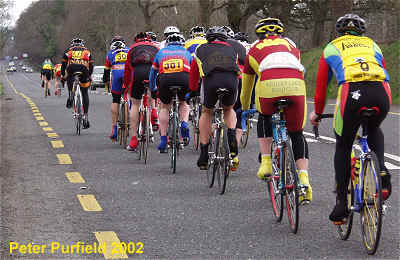 Rear end of chasers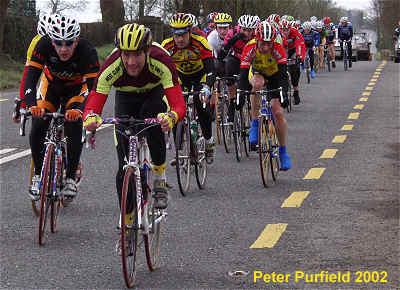 Senior A Bunch @ 1 min
Would you like a High Quality Printed Copy of these or other pictures - Click Here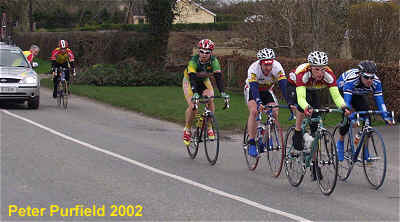 Half way into lap 2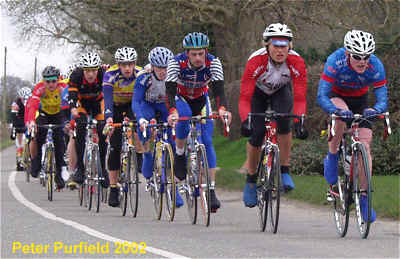 Chasers now @ 40"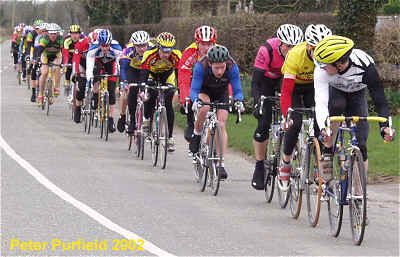 Bunch @ 1'10"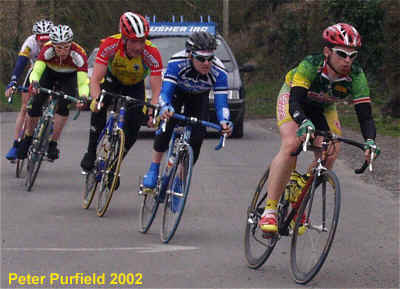 At Bective on lap 3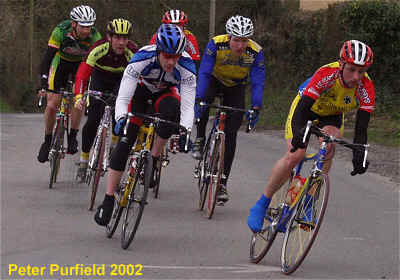 Chasers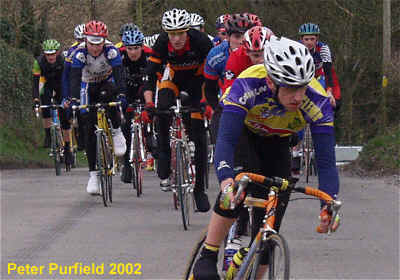 Bunch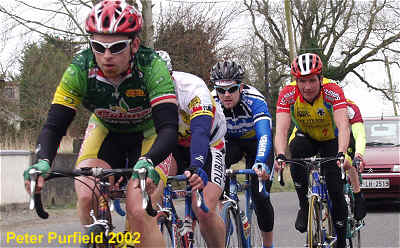 Still five riders in break starting lap 4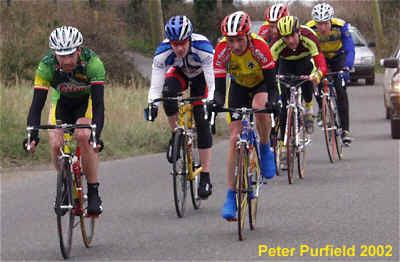 Chasers at just under a minute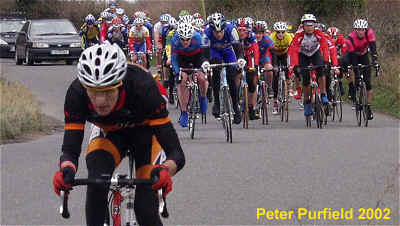 Shane Prendergast trys to leave the bunch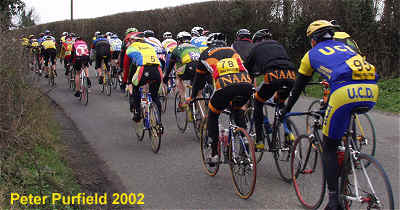 Back of bunch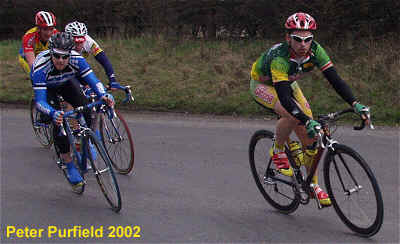 Breakaway starting lap 5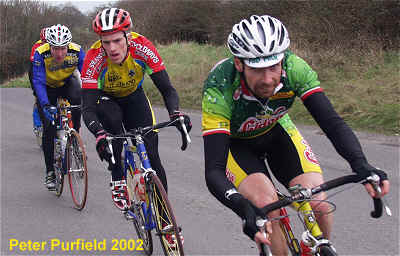 O'Loughlin chasing hard
Would you like a High Quality Printed Copy of these or other pictures - Click Here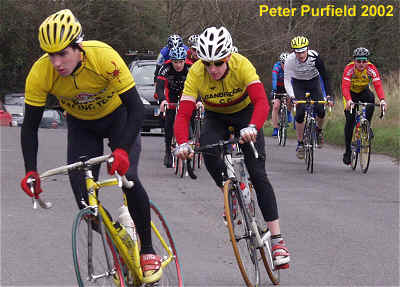 Bunch is getting smaller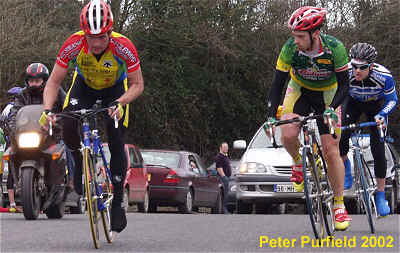 Only 3 riders in break starting the last lap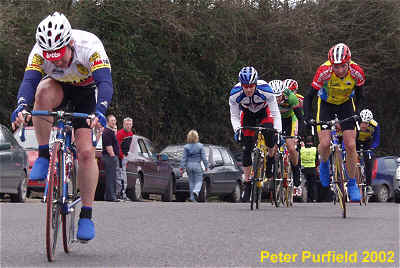 JP Hillard forces the chasers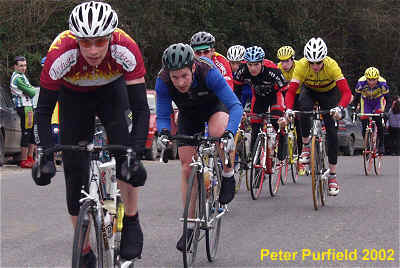 The bunch with one lap to go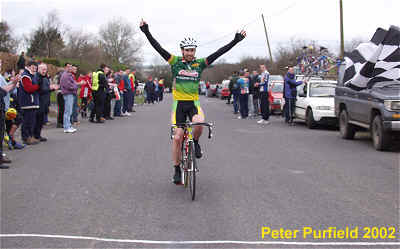 O'Loughlin caught and passed the break to win on his own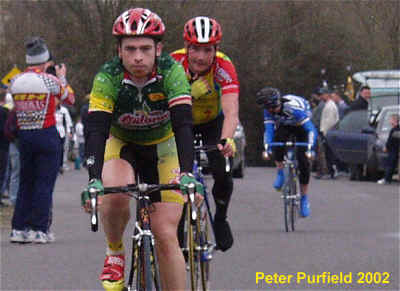 The remaining trio take the next few placings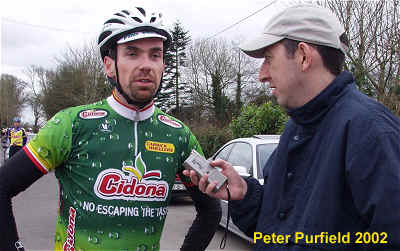 Gerard Cromwell interviews Martin O'Loughlin after finish
O'LOUGHLIN RETAINS TITLE:
A huge number of cyclists turned up to compete in the Cycleways Cup Races, promoted by Avonmore Navan R.C. and held over a distance of 72 miles in Navan today. Just four miles into racing, a five man break went clear, Stephen Gallagher from Orchard C.C. in Armagh, Shane Baker from Usher I.R.C., Eddie O'Donoghue from Carrick Cidona C.C. J.P. Hilliard from Dublin Skip C.C. and local hero Philip Cassidy from the Cycleways C.C. This five man group worked hard together and at the halfway mark they held a lead of 50 seconds over a chasing group of 10 riders with the main field a further 40 seconds back. By the start of the final lap Cassidy and 0'Donoghue had forged ahead with a 30 second lead. But then Martin 0'Loughlin of Carrick Cidona C.C. left the chasing group on his own and caught the two leaders with 6 miles of racing remaining. He rode straight past the leaders, who were at this point, tiring. O'Loughlin crossed the finish line alone, in front of a massive crowd, with arms raised in victory, 48 seconds ahead of his teammate Eddie 0'Donoghue, with Philip Cassidy from the Cycleways C.C. finishing 3rd, a further 3 seconds back. This was a repeat success for the Carrick-on-Suir School Teacher, having won this event last year.
The Senior '2' resulted in a great win for Michael Bolton from the newly formed BH Racing Club. In the Junior Race, Paidi 0'Brien from the Kanturk C.C. in Co. Cork made the long journey pay off when he won the Junior Race here today. CYCLEWAYS CUP RACES IN NAVAN: SENIOR 1 1st: Martin 0'Loughlin, Carrick Cidona C.C. 2nd: Eddie O'Donoghue, Carrick Cidona C.C. 3rd: Philip Cassidy, Cycleways C.C. 4th: Shane Baker, Usher Irish Road Club 5th: Andrew Donnellan, Dublin Wheelers C.C.
SENIOR 2 1ST: Michael Bolton, BH Racing Team 2nd: Ken Norgrove, Dublin Wheelers C.C. 3rd: John 0'Shea, Carrick Cidona C.C.
JUNIOR/SENIOR 3/VETERANS 1st: Paidi 0'Brien, Kanturk C.C. 2nd: David Byrne,Usher Irish Road Club 3rd: David Duke, Usher Irish Road Club
lst Lady: Gillian Darby, IMBRC
Other Events <Senior A Race> <Senior B Race> <Sen C, Junior, Vets & Ladies> <Startline Shots>
Return to Gallery Index - To Homepage All pictures are © Peter Purfield 2001